Update 21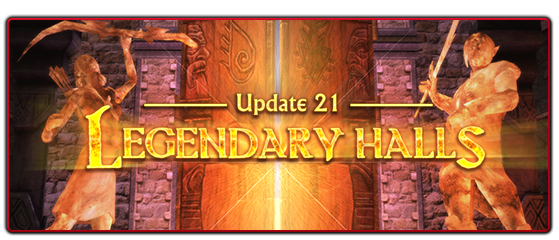 Celebrate the 40th anniversary of Dungeons & Dragons with deadly dragons, iconic adventures, and ancient treasure-filled ruins!
New Adventure Pack: Haunted Halls of Eveningstar Module
Once the lair of the long-dead bandit king Rivior, rumors say treasures still await those brave enough to delve into the depths of the Haunted Halls. A classic D&D module brought to life for CR 28 adventurers; enjoy a special commentary from Forgotten Realms creator Ed Greenwood! Free to VIPs!
New Adventuer Pack: Thunderholme
Explore the dwarven city of Thunderholme and face its current inhabitant: a powerful Shadow Dracholich and its allies! Includes an explorable landscape and two CR 30 raids! Free to VIPs!
- Fire on Thunder Peak: Battle against a mated pair of red dragons high on the mountain top!
- Temple of the Deathwyrm: Only the most skilled adventurers will survive this frightful journey to face the Shadow Dracholich.
Epic Completionist
Master Epic Destinies and become a legend! Unlock an additional Twist of Fate by completing Epic Past lives in the Epic Reincarnation system!
Anniversary Celebration
Celebrate 40 years of D&D, and 8 years of DDO, with a special in-game card event! Check your character inventory for a "D&D Red Box" and use it to collect classic Dungeons & Dragons cards from the Deck of Many Prizes. Collect, trade, and combine the cards and exchange them for cool rewards, and view the cart art in the new Image Gallery! Available throughout the month of March!
NEW STORE ITEMS
New Augments, Extra Storage, and more!
Learn about the latest additions to the DDO Store with Update 21 by clicking here!